Steamed buns encountered at Ashinomaki Onsen, where there is a rare cat station master in Japan.
Its name is Nikukyu Manju. It is a Japanese confectionery that expresses a cat's paw pads with sticky large and small manju buns.
I couldn't help but stop to take a look at the cute package and the funny name. Today, I would like to introduce such "Nikukyu Manju" as a recommended souvenir from Fukushima Prefecture.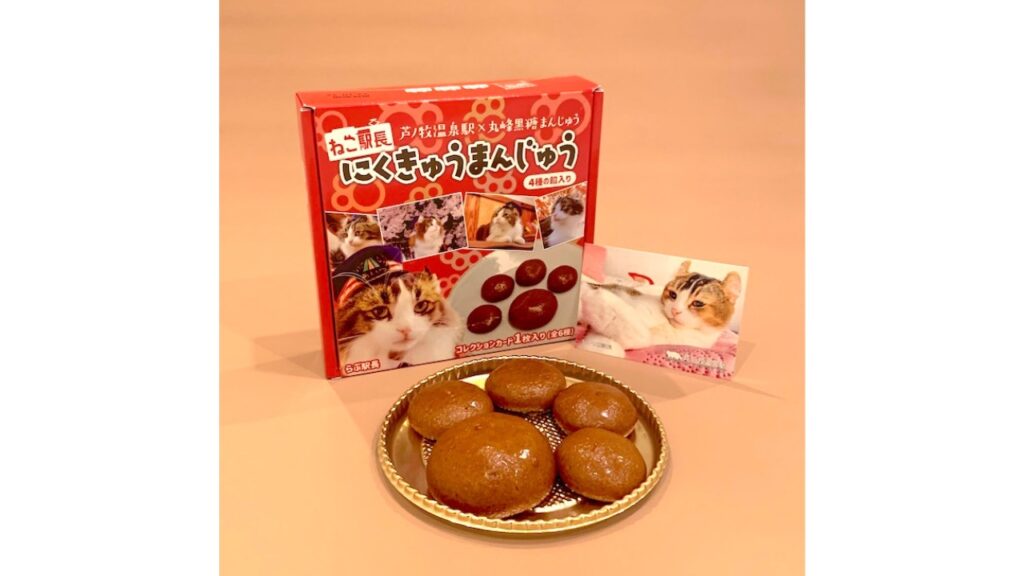 What kind of products?
This is a collaboration product of brown sugar manju, a specialty of Marumine Hotel, a long-established inn established in May 1965, and a cat named "Love," the second honorary station master of Ashinomaki Onsen Station of Aizu Railway, famous as the station where cats work.
Inside are five buns of different sizes, each with four types of red bean paste: koshian (sweet red bean paste), salted milk, banana miruku, and chocolate. The soft and sticky buns feel like a real cat's paw pads to the touch.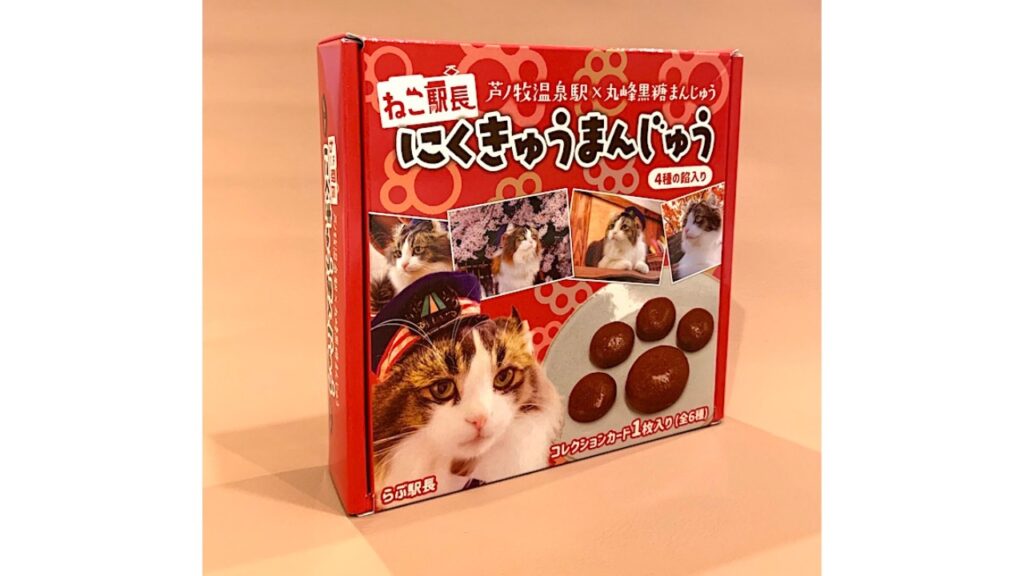 As for the taste, the not-too-sweet red bean paste and the soft texture were so delicious that I finished it in 5 minutes. Marumine Hotel is famous for its brown sugar buns, so there is no doubt about the taste.
There is also a collectable card of cats working at Ashinomaki Onsen. There are a total of five types of cards, and the one I purchased contained a card for Peach-kun, Love's younger brother.
The cat printed on the package is "Love," the second station master of Ashinomaki Onsen Station. Unfortunately, he passed away in 2021, but his face can still be seen throughout the town as a symbol of Ashinomaki Onsen.
A station with a cat stationmaster.
Ashinomaki Onsen in Aizu City, Fukushima Prefecture, has become famous as a station with a cat station master, which is rare in Japan, since a cat named "Bus" became the first honorary station master in 2008. Since 2015, a cat named "Love" has been the second honorary station master, but he passed away in 2022, and a cat named "Sakura" is scheduled to become the third honorary station master on November 5, 2023.
What a fantasy, a station where cats work! But cats are doing their job. Looking at the official SNS, there are photos of Sakura looking off the regular trains.
Ashinomaki Onsen Station, where she serves as station master, is a hot spring resort town known since long ago. It has always been a charming town, but fans from all over the world have gathered to see the cat station master. Especially on days when the cat station master goes to work, a large number of fans flock to the station. The economic effect is also outstanding.
Where to buy?
"Nikukyu Manju" can be purchased at the station and at Marumine souvenir shop, operated by Marumine Hotel. Please look for them when you visit Fukushima.
For those who can't go to Fukushima Prefecture right away, check out their online store as well.
Online Store: https://maruminean.jp/?mode=f7
Instagram: ashinomakionseneki
YouTube: @ashinomakionseneki
Text: Yukko