Europe's largest sake trade fair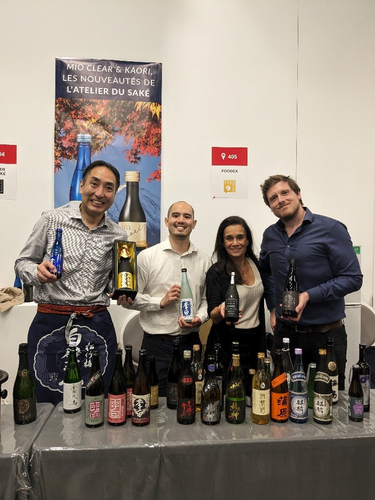 Foodex, an operating company of the overseas business Takara Shuzo International Group and Europe's largest wholesaler of Japanese food ingredients, exhibited at Salon du Sake 2023, held in Paris, France, from September 30 to October 2.
 The Salon du Sake is the first and largest sake trade fair in Europe, and has been held annually since 2014.
 Foodex had a booth for Takara Shuzo International products such as sparkling sake "Mio" and Shochiku-bai "Kaori," as well as a booth for Foodex's private brand "L'ATELIER DU SAKE,
The three booths offered local sake produced at sake breweries around Japan, and a tasting event was held with a rich lineup of Japanese sake products.
 Among them, the new product "Mio" , which started exporting in March this year, was highly praised by more than 90% of the customers who tasted it for its fruity and easy-drinking characteristics.
In addition, more than 30 workshops and lectures were held at the "Salon du Sake." Foodex's SAKE sommelier led a workshop on pairing sake with French ingredients such as cheese and caviar. In particular, a proposal to pair food with "L'ATELIER DU SAKE" (Daiginjo), a product jointly developed with Takara Shuzo International, was very well received by the participants.
 Through these and other activities, Takara Shuzo International Group will continue to promote Japanese food culture through the global expansion of Japanese sake and Japanese food to provide people around the world with a rich dietary life through Japanese food and sake, and to realize the Takara Group's vision, "Smiles in Life – A smile is a treasure of life. We will strive to realize Takara Group's vision, "Smiles in Life – Life's treasures.
"Salon du Sake" official website (external) http://salon-du-sake.fr/ja/
Go to Corporate Press Release Details (2023.10.24 14:30)

This article is based on news releases from companies and organizations provided by "@Press".
We do not endorse or recommend the purchase or use of any of the products, services, etc. listed here, nor do we guarantee the quality or content of such products, services, etc.
Please contact the respective company or organization for inquiries about products, services, etc.